The award ceremony of the 4th Vietnam Amazing Cup 2022 was held on 30 April 2022 in Buon Ma Thuot city, Dak Lak province, closing a six-month competition to vote for the best robusta and arabica coffee samples in the country. This is also the pinnacle competition of the Vietnamese coffee industry, which is carried out like in many countries around the world.
This competition gathered 83 coffee samples, including 53 Robusta and 30 Arabica samples from many regions such as Dak Lak, Lam Dong, Dak Nong, Gia Lai, Kon Tum, Quang Tri, Son La, representing for 158.3 tons of coffee which have been cared for, collected and processed in conformity with international technical standards. Such competition consisted of the largest number of registered samples and the largest total volume of specialty coffee produced ever, said Mr. Trinh Duc Minh, Chairman of Buon Ma Thuot Coffee Association, Standing Deputy of the organizing committee of this Vietnam Amazing Cup.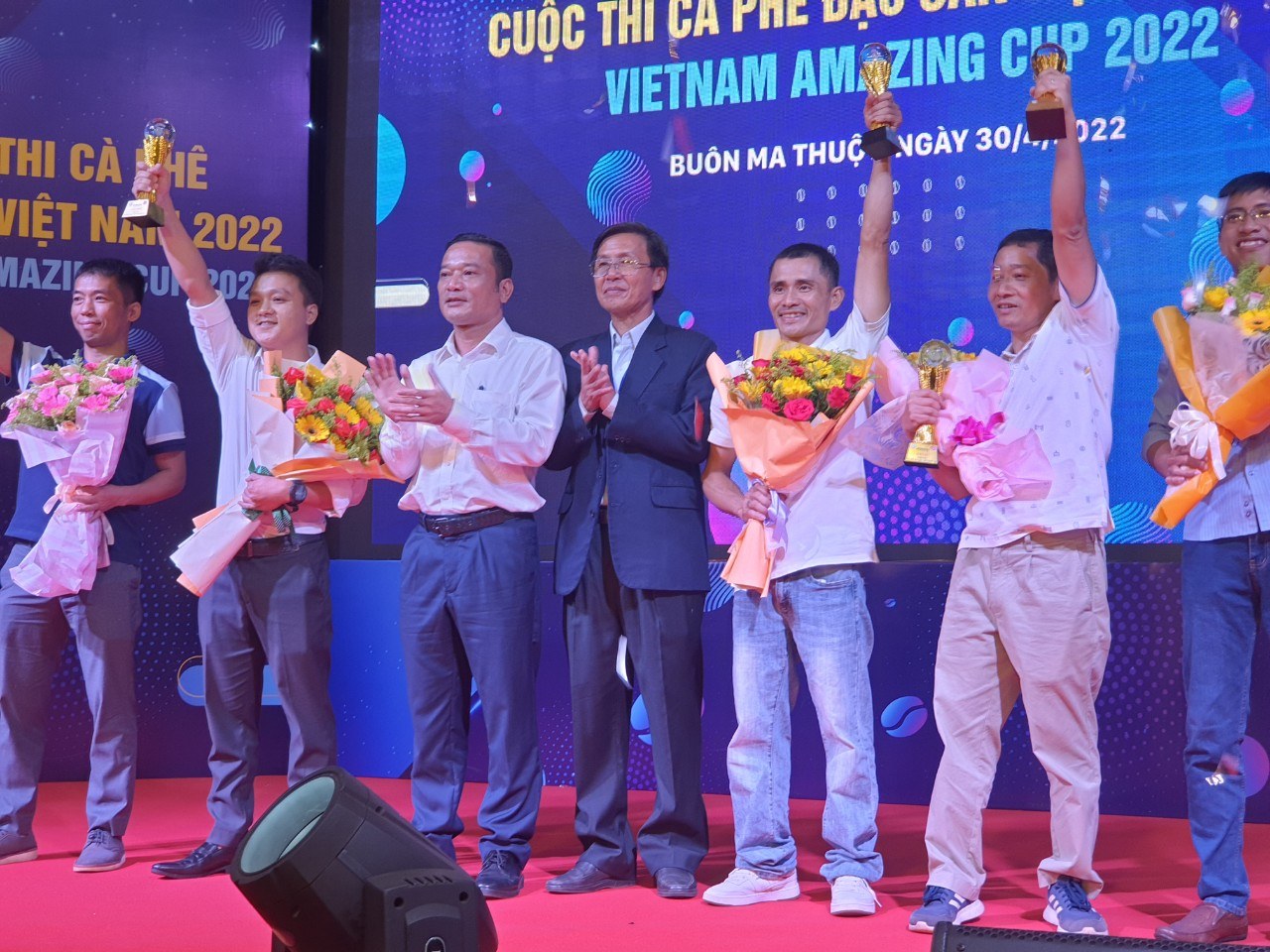 Through many times of cupping – the most important stage of any specialty coffee competition – 22 local and foreign judges from Indonesia, the Philippines, Malaysia, Korea and Singapore have selected 3 top samples of each type. The coffee sample to be called a specialty must be within the international scale of 80-100 points.
The dream of arabica coffee farmers in Khe Sanh, Quang Tri is "providing excellent coffee beans to users and changing the quality of Vietnamese coffee on the world map of coffee", said the representative of Pun Coffee. Pun Coffee Quang Tri, which mainly are Bru Van Kieu people, has made a big deal this season with 7/9 coffee samples that all satisfied the requirements of specialty coffee, including the arabica sample won the third prize with 83.95 points.
The merits of robusta farmers at Ea Tan Cooperative, Krong Nang district, Dak Lak province have also been well compensated when the robusta sample of this cooperative received the champion of Robusta specialty coffee in 2022 with 83.67 points
Two arabica and robusta samples from the same specialty coffee production and processing facility, Minudo Farm-Care One Member Limited Company located in Ea Kao Commune, Buon Ma Thuot City were all in the top 3. The company received the arabica champion with 84.25 points and the runner-up in specialty robusta. This is not the first time Minudo Farm-Care has received top awards.
The competition is also recognized as having regularly appeared the skills of making specialty coffee beans in many various regions. They are said to be the nucleus to enhance the value of Vietnamese coffee beans in the international arena.
Thesaigontimes