After wondering in the coffee capital whether he could really drink safe coffee, Mr. Le Dinh Tu chose to go his own way, making only high-quality coffee and specialty coffee.
In the coffee capital, is it possible to drink safe coffee?
During a business trip to Dak Lak, I happened to be led by Mr. Thang (45 years old, Hanoi) to enjoy coffee at the farm of a man named Tu whom he considers a "Coffee mutant". It turns out that this "mutant" has its own way, only making high-quality coffee and specialty coffee, consider it a Coffee Manifesto. Not to mention, the "mutant" can manually prepare coffee cups according to the individual taste of each customer after only one visit.
Mr. Tu's farm is quite special, located next to the romantic Eakao Lake, about 12km southeast of Buon Ma Thuot city center. Stepping to the farm gate, what caught my eye was a picture of a fresh, green, very peaceful nature with one side being a yellow cosmos garden, flying bees and butterflies, and one side is a coffee field with a 4-storey design.
Just at first glance, tourists begin to see the specialness of this type of biodiversity farm design. Specifically, in addition to the advantage of coloring the garden, a light fragrance that creates a pleasant, relaxing and comfortable feeling for people, the yellow cosmos garden also has the effect of purifying the air, eliminating harmful substances that affect health. In addition to yellow cosmos gardern, this place also has sunflowers, dahlias, roses…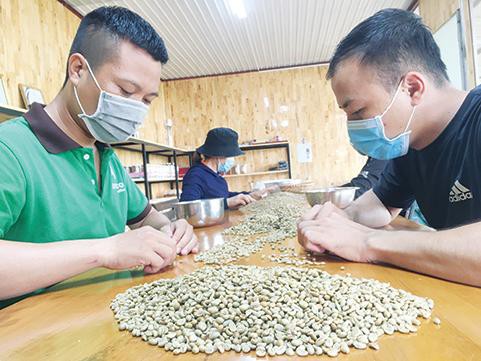 While looking at the flower garden, the farm owner Le Dinh Tu appeared. Without silks and satins and showy hair, Dinh Tu is a simple, authentic farmer when wearing khaki pants, a T-shirt, curly hair, dark skin with the characteristics of the Central Highlands. Le Dinh Tu is the Director of Minudo Farm – Care One Member Limited Company, the people here are known as the owner of the Aeroco coffee farm.
Dinh Tu introduced: "The garden is designed in 4 storeys. In particular, the top storey is a shady White Leadtree with small canopies, sparse leaves that are enough for light to pass through the lower floors for photosynthesis, the trunk is used as a living pillar to grow pepper, later can take wood to produce furniture.
The second storey is intercropped fruit trees (avocado, durian) bringing regular income for using short-term goals. The third storey is the main coffee crop with varieties with high yield, quality and density than usual, can harvest from 8-10 tons of fresh coffee/ha.
The last storey is vegetation (grass and dry, decayed leaves) enough to cover the soil to create porosity for the coffee root system to absorb nutrients, limit leaching and evaporation in the dry season, and provide organic nutrition for garden plants".
According to the farm owner, for more than 10 years working for a big-name fertilizer company in the South. He found that with the planting and care of farmers at that time, they mainly used chemical fertilizers, so the initial coffee output increased but was not equal in quality. Besides, the situation of picking green coffee is common, reducing the value of the coffee industry. Coffee trees will quickly wilt after a few harvests.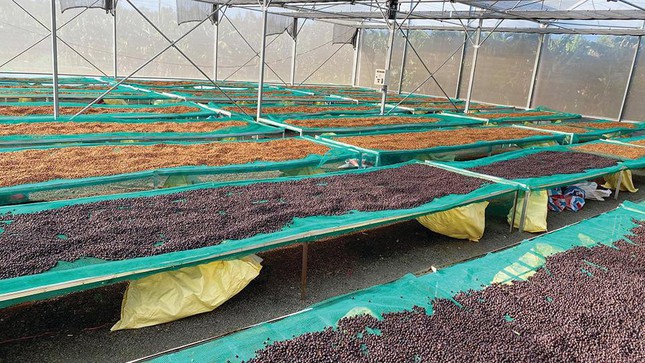 In 2015, I started renting land to grow coffee. I went to Gia Lai to learn how to grow and process coffee on a farm, taught by experts from the US, Australia, and India. After that, I returned to Eakao commune to invest in buying upland, leveling, and choosing good varieties from the Western Highlands Agro-Forestry Scientific and Technical Institute to plant and take care of," Mr. Tu said.
To be more realistic, Mr. Tu led us around the farm. "Our process together with farmers and the Western Highlands Agro-Forestry Scientific and Technical Institute decided not to use any pesticides. Caring for coffee trees is completely organic, natural and environmentally friendly.
The yield may be low, but the quality of the coffee beans that Aeroco produces is a completely different result when we harvest fully ripe coffee cherries, in order to preserve the natural delicious coffee flavor with the unique Aeroco coffee flavor.
Many years of experience with coffee cultivation and processing, Mr. Tu said, from raw coffee beans to finished roasted coffee is a process full of thorns and challenges. In order to fully exploit the flavor of a specialty coffee, the roasting process must be based on the quality of the beans, developing the final flavor of specialty coffee. An unskilled roaster, equipment that doesn't work properly, poor packaging materials, etc. will all ruin the coffee's potential.
Benefits of farmers and customers
According to Mr. Le Dinh Tu, in order to have typical and high-quality coffee products, in addition to the production stage on the garden according to the above method, Aeroco farm also implements stages such as: Harvest with a high ripening rate; size classification, preliminary processing, drying with strict time for each type of coffee product that the ordering units give; processing, analysis and evaluation of product quality.
According to this "mutant", so far, he has spent about 20 billion VND to invest in Aeroco Coffee farm. The warehouse for storing coffee and machinery alone has 10 billion VND. In the warehouse, 10 large air conditioners operate 24/24h. The total area of coffee that the company manages is about 20ha. The rest are mainly associated with farmers in Ea Hleo district, Krong Nang district by Mr. Tu. All coffee products associated with farmers will be consumed with fresh coffee prices many times higher than the market price.
In addition, the unit also links Arabica coffee production under the forest canopy with some ethnic people in Mang Den town in Kon Plong district (Kon Tum province), where the altitude is 1,200m above sea level with the expectation of creating high-quality coffee products, consuming fresh coffee at high prices, bringing income to farmers here from 150-200 million VND/ha.
"With a closed and scientific process, the farmers benefit 40%, the enterprise gets 15-20%, and the customers enjoy the rest.
Currently, Aeroco Coffee's products have been exported to Germany – the country by the company. In addition, the company has also offered to markets in Japan, New Zealand, Korea, and France.
At the 2nd Vietnam Amazing Cup 2020 in March 2020, in addition to winning the first prize of arabica, arabica and robusta samples of Minudo Farm – Care One Member Limited Company (Dak Lak) were also selected by both judges, gardeners and many domestic and foreign buyers and roasters as the most favorite delicious and specialty coffee samples.
Tien Phong Newspaper